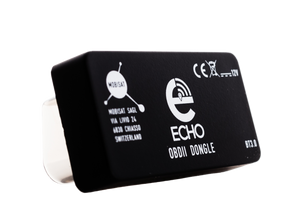 The OBDII Mobisat dongle is a read-only device that connects via Bluetooth with the GPS/GNSS system. The dongle reads data from the vehicle and sends it to the GPS/GNSS Wired System that forwards this information to the internet.

This process allows you to see all the data in real-time via the Greenbox Virtual Dashboard. It feels like being at the wheel, even if you're not driving.

What data can the dongle read?
ALL OBDII VEHICLE TROUBLE CODES

ENGINE REVOLUTIONS PER MINUTE


FUEL LEVEL

THROTTLE VALVE (ACCELERATION)


SPEED

ENGINE TEMPERATURE

IGNITION STATUS

AND MANY MORE
The Mobisat OBDII Dongle, combined with our Wired System, creates the Hybrid System (our most versatile and performing solution).
You cannot use the Mobisat OBDII Dongle as a standalone device.